Description
Holosun AEMS Red Multi-Reticle 2 MOA Circle-Dot Micro Reflex Sight w/Solar Failsafe & Shake Awake AEMS-211301
The Holosun® AEMS Red Dot Sight is a compact and lightweight red dot sight, compatible with most rail-equipped rifles and shotguns. The precision-machined and hard-coat anodized 7075 T6 aluminum housing easily withstands punishing recoil. Solar Failsafe™ technology harnesses the sun's energy to power the unit in daylight environments, conserving battery life for overcast or low-light conditions. Shake Awake™ technology automatically activates the red dot when it detects motion for an instant, hands-free activation, and automatically powers down the unit when the weapon is idle for an extended period of time. The Multi-Reticle System allows you to choose your favored reticle (2 MOA dot, or 65 MOA circle) for enhanced reliability, while multiple user-selectable brightness settings deliver exceptional clarity in any lighting. Better yet, this red dot operates on a single CR2032 battery (included) and delivers an impressive 50,000-hour battery life (lowest setting). Plus, multilayer reflective glass lenses deflect stray light away from your eye for exceptional clarity and reduced eye fatigue.
New to online buying click here https://dukessportshop.com/what-to-expect-when-buying-online/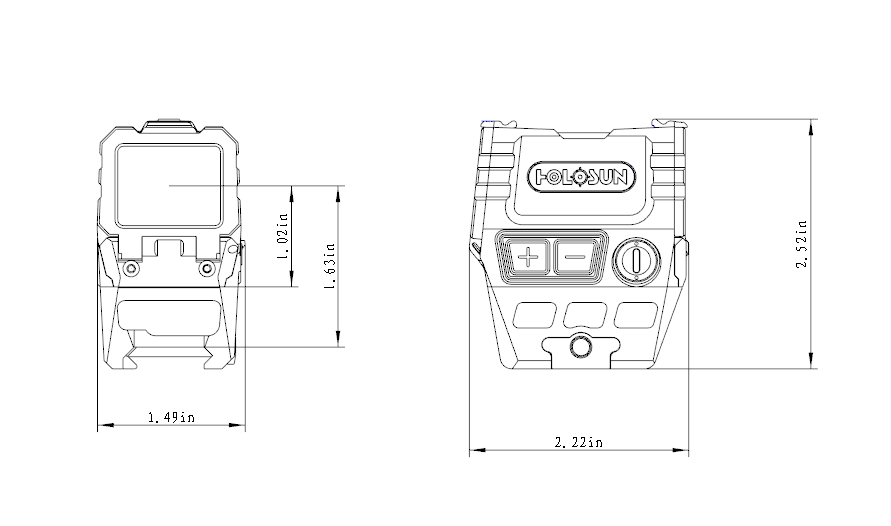 Holosun AEMS 21301 features our Red Multi-reticle System with Solar Failsafe and Shake Awake technology. The housing is made from 7075 aluminum and is black anodized for durability.
In the Box
 Lower 1/3 Co-witness Mount
 Multi Tool
 Clear Flip-down Len Covers
 User Manual
 CR2032 Battery
 Lens Cloth
Multilayer Reflective Glass
Large FOV in a Compact, Lightweight package
Motion On with Last Setting Recall
Up to a 50,000 Hour battery life
Solar Failsafe™
Multi-Reticle System™ (MRS): 2 MOA Dot, 65 MOA Circle, Circle-Dot
Shake Awake Technology™
Owners Manual  https://holosun.com/uploads/20210830/0d535ac15dbf7e6686efcbc5d095762b.pdf